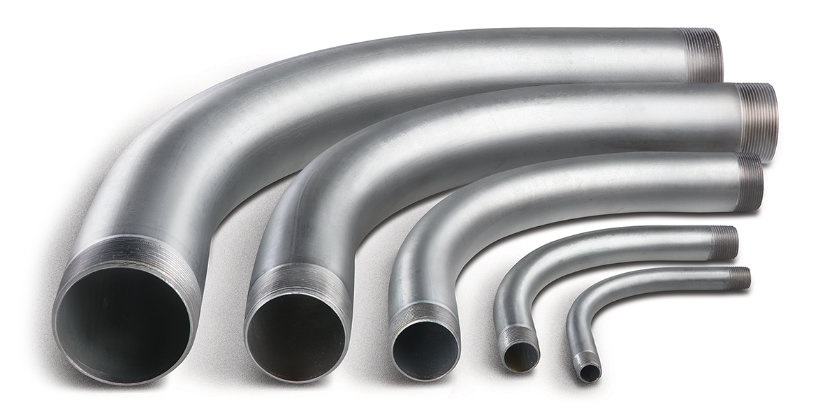 Penn Aluminum Rigid Elbows are produced from our quality UL Listed Rigid Aluminum Conduit, which is extruded in Murphysboro, Illinois, using recycled, US domestic aluminum billet.
Elbows are available in all of our rigid conduit sizes – trade sizes ½" through 6"
Listed to UL 6A Safety Standard and in compliance with all electrical code requirements.
45˚, 30˚ and Special Radius 90˚ Rigid Aluminum Elbows also available (in addition to those below).
Rigid Aluminum Couplings
Nominal Dimensions (in)
Penn Part Number
Trade Size
Appx. Weight per 100 Pcs. (lb.)
A
B
C
P-012-90-ELB
1/2
29.0
4.00
6.50
2.50
P-034-90-ELB
3/4
43.0
4.50
7.25
2.75
P-100-90-ELB
1
71.0
5.75
8.38
2.88
P-114-90-ELB
1-1/4
110.0
7.25
10.25
3.00
P-112-90-ELB
1-1/2
153.0
8.25
11.88
3.63
P-200-90-ELB
2
249.0
9.50
14.00
4.50
P-212-90-ELB
2-1/2
437.0
10.50
15.75
5.25
P-300-90-ELB
3
767.0
13.00
18.75
5.75
P-312-90-ELB
3-1/2
1036.0
15.00
21.75
6.75
P-400-90-ELB
4
1228.0
16.00
23.00
7.00
P-500-90-ELB
5
2490.0
24.00
36.00
11.00
P-600-90-ELB
6
3850.0
30.00
42.50
12.50